Chemical Peels
Chemical peels are designed to accelerate skin exfoliation. With the use of chemical substances, the results give a renewed, healthier looking skin. Our peels remove old, damaged skin so that new layers can grow in their place. The result is smoother, less wrinkled skin.
Innovative Aesthetics Medical Spa and Laser Center is one of the most experienced spas in Cedar Rapids. Our dedicated staff specialize in chemical peels, skin brightening peels, face peels, and glycolic peels. We will help you determine the right treatment for you, and work with you to achieve healthier looking skin. 
Glycolic Peel
Glycolic peels use glycolic acid to provide a gentle exfoliation that fades fine lines, wrinkles, blemishes, sun damage and acne scars. It's the perfect choice for those who want to brighten their skin with little to no discomfort, side effects or downtime.
Benefits
Improve the overall clarity, tone and texture of the skin

Reduce or eliminate hyperpigmentation, sun damage and Melasma

Improve acneic skin conditions and reduce acne scars

Stimulate the production of collagen, resulting in firmer, more youthful skin

Reduce the appearance of pore size
Skin Brightening Peel
Our Skin Brightening Peel is a medium depth peel, suitable for all skin types including sensitive skin, mature skin, and is ideal for darker complexions. Patients experience significant results with less redness, post inflammatory hyperpigmentation (PIH), and downtime than other peels due to the antioxidant content in this product.
It helps smooth texture while brightening the appearance of photo-damaged skin, reduces hyperpigmentation including melasma, redness, and can even skin tone.
Our Skin Brightening Peel also includes an easy to use post care home treatment kit to continue your skincare routine at home. A kit of specifically formulated products will be provided to enhance in-office peel benefits from the comfort of your home.
Timeless Advanced Peel
Our Timeless Peel is formulated with an exclusive blend of clinical-grade acids and a maximized peel concentration of phenylethyl resorcinol. This peel dramatically diminishes the appearance of discoloration, while smoothing skin texture and refining the appearance of pores, to restore a brighter, more clarified skin tone. For optimal results, a series of 4 treatments every 4 weeks is recommended. This peel is ideal for all skin types and Fitzpatrick I-V.
Ingredients
Formulated with an exclusive blend of clinical-grade acids and a maximized peel concentration of phenylethyl resorcinol.
Benefits
Helps reduce visible signs of photoaging, including fine lines and wrinkles.

Improves the appearance of uneven skin tone and dullness by exfoliating surface cells.

Softens and smoothes the skin's surface texture.

Decreases the frequency of acne breakouts and fades the appearance of post-acne discoloration.

Maintains and enhances the benefits of a SkinCeuticals homecare regimen.

Complements benefits of in-office procedures.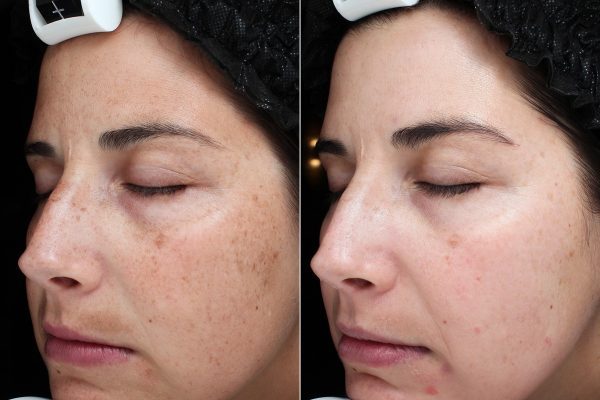 Frequently Asked Questions
Yes! All skin types can be treated. We recommend this treatment for sensitive skin, melasma, mature skin, and all other skin types.
Most patients will peel for 3-4 days depending on the individual. Attending work/social events is usually determined by the amount of peeling one is experiencing.
Everyone experiences a chemical peel differently. The amount of peeling and number of days varies with each patient and skin type. Typically patients peel the most on day 3 and 4 following treatment. 
"Excellent experience every time I go in. Very peaceful and pleasant atmosphere. They get you in and out in a timely manner and pay close attention to your needs and give you educated advice."
"Once I got the hang of the Ideal Protein plan, it didn't take long to see the results. 50 lbs lost in 4 months! The plan really is easy, the food is good, and now I have the tools and knowledge to keep eating healthy!"
"What an amazing experience at Innovative Aesthetics. My friend and I went in for facials on a to relax and we both almost fell asleep. The service was wonderful and answered all of our questions and also gave us some advice. Great way to spend the morning with a friend."
"If you are looking for a lifestyle change to become a healthier you this is the place! I've been a part of the program for 3 months and within a week I saw what all the hype was about. All the consultants/coaches welcome you in and are there every step of the way to encourage you on. Finally found what I was missing."
"My skin has never felt and looked better."
"Not only does Ideal Protein work, but the coaches are just amazing. Flexible, human, understanding & encouraging! ❤️ Ideal Protein changed my life."
"They have the latest technology in skin/beauty treatment. They know what to recommend to me to make me look and feel wonderful."
"Ideal Protein is such an amazing program. I lost 70lbs in less than a year on this program. The Facebook page is great to follow. It is a daily reminder that you are not alone in this journey!"