Chemical Peels
Chemical peels are designed to accelerate skin exfoliation. With the use of chemical substances, the results give a renewed, healthier looking skin. Our peels remove old, damaged skin so that new layers can grow in their place. The result is smoother, less wrinkled skin.
Innovative Aesthetics Medical Spa and Laser Center is one of the most experienced spas in Cedar Rapids. Our dedicated staff specialize in chemical peels, skin brightening peels, face peels, and glycolic peels. We will help you determine the right treatment for you, and work with you to achieve healthier looking skin. 
VI Purify Peel :YOUR PEEL FOR ACTIVE ACNE & OILY SKIN
The VI Peel Purify is a highly effective treatment for acne and addresses a variety of concerns caused by acne symptoms. This unique formula combination increases cellular turnover to open pores and reduce comedones, kill p. acnes, and balance the skin for fewer breakouts.
FOR SKIN CONCERNS
Active Acne
Breakout-Prone Skin
Oily and Congested Skin
Teen Acne
PRODUCT BENEFITS
Increases cellular turnover to clear pores
Eliminates P. acne bacteria
Soothes inflammation and redness
 PRODUCT FEATURES
Safe for all skin types
Medium-depth peel
Results within 7 days
Safe to use for all Fitzpatrick types I-VI
VI PRECISION PLUS:YOUR PEEL FOR SKIN DISCOLORATION
VI Peel Precision Plus combats pigmentation with our Lighten Booster and fast acting Brightening Booster. This powerhouse formula effectively suppresses melanogenesis and promotes rapid cell turnover for improved skin tone.
FOR SKIN CONCERNS
UV Induced Pigmentation
Sun Damage
Melasma
Post-Inflammatory Hyperpigmentation
 PRODUCT BENEFITS
Exfoliates and helps diminish pigmentation and textural damage to restore skin to its natural health
Effectively penetrates damaged areas
Promotes rapid cell turnover
PRODUCT FEATURES
Safe for all skin types
Medium-depth peel
Results within 7 days
Safe to use for all Fitzpatrick types I-VI
Skin Brightening Peel
Our Skin Brightening Peel is a medium depth peel, suitable for all skin types including sensitive skin, mature skin, and is ideal for darker complexions. Patients experience significant results with less redness, post inflammatory hyperpigmentation (PIH), and downtime than other peels due to the antioxidant content in this product.
It helps smooth texture while brightening the appearance of photo-damaged skin, reduces hyperpigmentation including melasma, redness, and can even skin tone.
Our Skin Brightening Peel also includes an easy to use post care home treatment kit to continue your skincare routine at home. A kit of specifically formulated products will be provided to enhance in-office peel benefits from the comfort of your home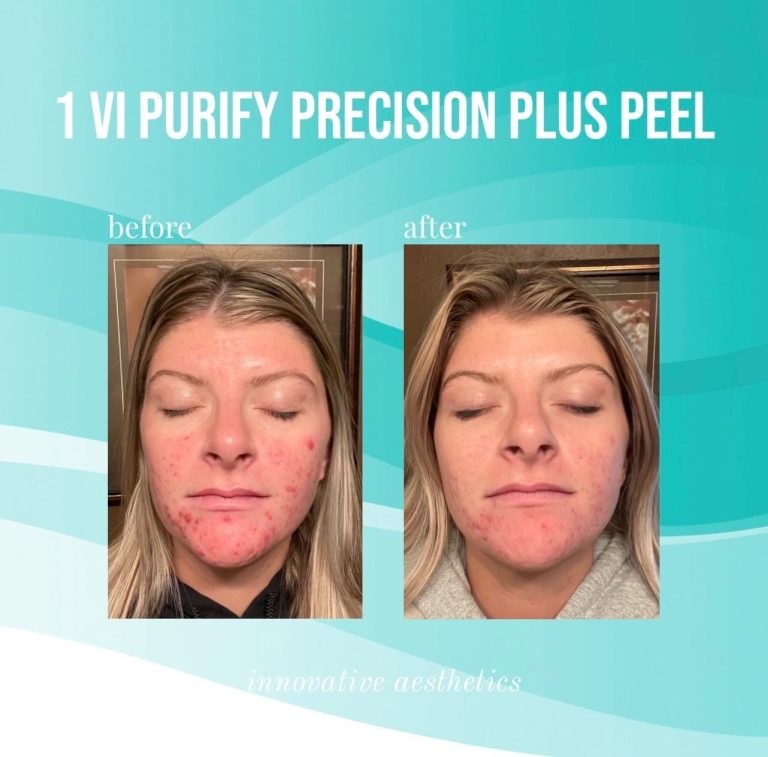 Frequently Asked Questions
Yes! All skin types can be treated. We recommend this treatment for sensitive skin, melasma, mature skin, and all other skin types.
Most patients will peel for 3-4 days depending on the individual. Attending work/social events is usually determined by the amount of peeling one is experiencing.
Everyone experiences a chemical peel differently. The amount of peeling and number of days varies with each patient and skin type. Typically patients peel the most on day 3 and 4 following treatment. 
"Excellent experience every time I go in. Very peaceful and pleasant atmosphere. They get you in and out in a timely manner and pay close attention to your needs and give you educated advice."
"Once I got the hang of the Ideal Protein plan, it didn't take long to see the results. 50 lbs lost in 4 months! The plan really is easy, the food is good, and now I have the tools and knowledge to keep eating healthy!"
"What an amazing experience at Innovative Aesthetics. My friend and I went in for facials on a to relax and we both almost fell asleep. The service was wonderful and answered all of our questions and also gave us some advice. Great way to spend the morning with a friend."
"If you are looking for a lifestyle change to become a healthier you this is the place! I've been a part of the program for 3 months and within a week I saw what all the hype was about. All the consultants/coaches welcome you in and are there every step of the way to encourage you on. Finally found what I was missing."
"My skin has never felt and looked better."
"Not only does Ideal Protein work, but the coaches are just amazing. Flexible, human, understanding & encouraging! ❤️ Ideal Protein changed my life."
"They have the latest technology in skin/beauty treatment. They know what to recommend to me to make me look and feel wonderful."
"Ideal Protein is such an amazing program. I lost 70lbs in less than a year on this program. The Facebook page is great to follow. It is a daily reminder that you are not alone in this journey!"