Fillers
If you are looking to restore fullness and volume to your face, cosmetic fillers may be the answer for you. These products can give you a more rested appearance, enhancing your features, and defy gravity and age.
Belotero®
Belotero is an injectable filler that is used to smooth fine lines and wrinkles around the nose and mouth. Upon injection, it quickly and evenly integrates into your skin for immediate results. Belotero may last about 6-12 months or more and requires little downtime. 
Volbella®
A member of the Juvéderm family of products, Volbella is an FDA-approved injection used to increase lip fullness and soften the appearance of "smoker's lines" around the mouth. It may also be used to fill pitted acne scarring in the face. Unlike other fillers, Volbella blends different molecular weights of hyaluronic acid, which allows it to create subtle volume that lasts for up to a year.
Radiesse®
Radiesse is a FDA-approved dermal filler for the face and hands. It plumps the skin to give the appearance of a smoother surface. Radiesse helps erase lines and folds and replaces lost structure with immediate volume. This dermal filler works immediately so the results are instant upon injection. Radiesse works to stimulate the body to produce collagen naturally. Ultimately the body absorbs the product and leaves behind the natural collagen for results that may last up to a year or more in many patients.  
Restylane® Eyelight
Restylane Eyelight for under-eye hollows. Restylane Eyelight fills in the undereye area to help people look more refreshed, while maintaining a natural look and feel.
Restylane® Contour
Introducing Restylane Contour, Galderma's newest, innovative hyaluronic acid filler now FDA-approved for cheek augmentation and the correction of midface contour deficiencies. As we age, the skin on our face loses definition, most notably in the midface. Restore your natural contour and recapture that more youthful-looking appearance.
Restylane® L
Restylane L is a FDA-approved injectable hyaluronic acid gel used to correct volume loss and treat wrinkles in the face. Often this product is used to treat the lines from your nose to the corners of your mouth (nasolabial folds or laugh lines), or can be used to replace volume loss in cheeks or lips.
Restylane® Kysse
Restylane Kysse is a FDA-approved hyaluronic acid filler used to subtly enhance the fullness of the lip body and add definition to the border to create soft, natural looking lips. This is the first filler to be equipped with Optimal Balance Technology (OBT) or XpresHAn Technology, which uses advanced tissue integration to achieve a more natural look. Restylane Kysse is clinically proven to last for 6-9 months, and some effects have also been seen at 12 months.
Restylane® Defyne
Restylane Defyne may be used for deep, lower facial lines, also known as "laugh lines."  Restylane injectable fillers are made from hyaluronic acid, a naturally occurring substance in the skin. The smaller molecule allows for this filler to advance into the appropriate spaces under the skin's surface and move naturally with facial expressions. Folds and wrinkles are reduced with minimum downtime and the results can last up to 12 months.
Restylane® Refyne
The first signs of "laugh lines" around the mouth can instantly cause a more aged appearance. Restylane Refyne is an injectable filler that helps soften and smooth the fine lines with results lasting up to 12 months. Similar to Defyne, Restylane Refyne is a smaller molecule that allows for a more natural look with movement of the lower face.  
Restylane® Lyft
Restylane Lyft is a FDA-approved injectable hyaluronic acid gel used to correct volume loss and treat wrinkles in the face. Through non surgical injections, it is specifically designed to add fullness to the cheeks and mid face area, which can result in a more natural-looking, youthful appearance. Restylane Lyft is proven to correct nasolabial folds for up to six months and proven to add volume to the mid face area for up to 12 months.
Sculptra®
Sculptra stimulates your skin's own natural collagen production to increase overall facial volume. Over the course of several treatment sessions, Sculptra produces results that emerge over time. This poly-L-lactic acid (PLLA)-based treatment begins working deep within the skin, reinforcing the skin's inner structure and restoring its volume.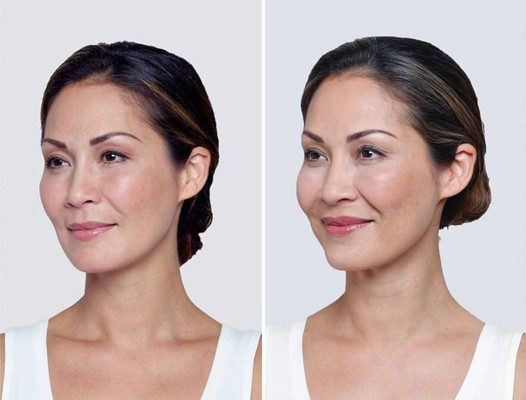 Before and After Sculptra
Frequently Asked Questions
"Excellent experience every time I go in. Very peaceful and pleasant atmosphere. They get you in and out in a timely manner and pay close attention to your needs and give you educated advice."
"Once I got the hang of the Ideal Protein plan, it didn't take long to see the results. 50 lbs lost in 4 months! The plan really is easy, the food is good, and now I have the tools and knowledge to keep eating healthy!"
"What an amazing experience at Innovative Aesthetics. My friend and I went in for facials on a to relax and we both almost fell asleep. The service was wonderful and answered all of our questions and also gave us some advice. Great way to spend the morning with a friend."
"If you are looking for a lifestyle change to become a healthier you this is the place! I've been a part of the program for 3 months and within a week I saw what all the hype was about. All the consultants/coaches welcome you in and are there every step of the way to encourage you on. Finally found what I was missing."
"My skin has never felt and looked better."
"Not only does Ideal Protein work, but the coaches are just amazing. Flexible, human, understanding & encouraging! ❤️ Ideal Protein changed my life."
"They have the latest technology in skin/beauty treatment. They know what to recommend to me to make me look and feel wonderful."
"Ideal Protein is such an amazing program. I lost 70lbs in less than a year on this program. The Facebook page is great to follow. It is a daily reminder that you are not alone in this journey!"