Ideal Protein At Innovative Aesthetics​
Ideal protein is a scientifically developed, three phase ketogenic weight loss  program that has been evolving for over 20 years to help you lose weight and keep it off.  Ideal Protein resets the body to burn fat, and empowers weight loss to ensure long lasting health.  With our unique protocol, you will have lifetime coaching to motivate and keep you on track. 
Phase 1 Weight Loss: Losing the weight that you want
Phase 2 Stabilization: Ensuring your body is keeping the weight off
Phase 3 Maintenance: Having Ideal protein become a second nature lifestyle choice 
With our one-on-one coaching, you will lose weight and learn step-by-step how to keep the weight off. Ideal Protein is scientifically engineered with proven results to help regulate insulin production, blood sugar levels, reduce cholesterol levels, and obesity related medical problems. All of these things combined will help you lose weight and keep it off. 
We have the perfect doctor-designed nutrition, medical science, PERSONAL  Coaches for accountability, and encouragement to ignite, uncover, and activate the power inside you Not only that, you'll be a part of an ever growing, immensely supportive community of people just like you to help keep you on track for you goals.
All you need to lose weight and keep it off exists inside you right now. You are full of inherent strength, courage, and natural physiological power.
Reset your whole mindset and outlook. 
Reset your health and your life for good. 
Reset, what's possible.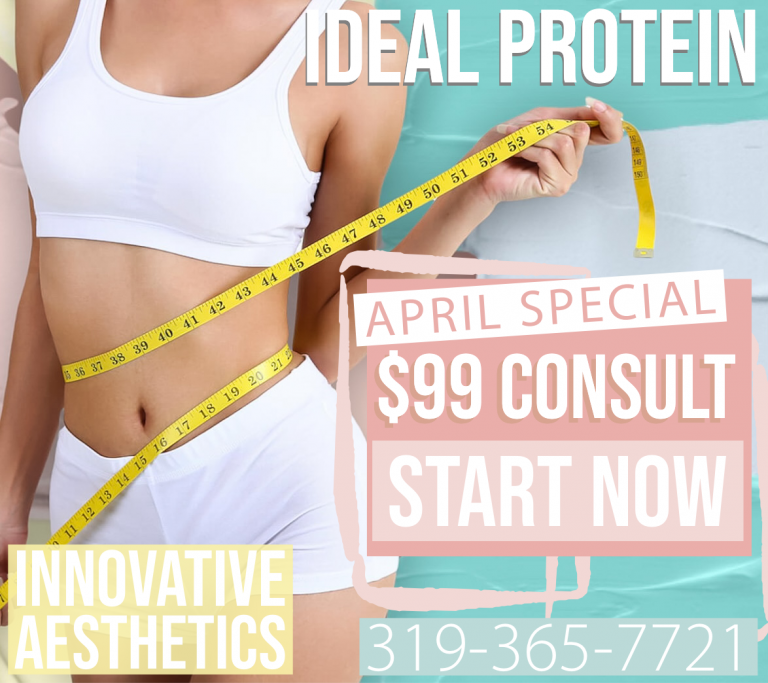 Online ordering available to Innovative's clients for Curbside Pickup or $5.00 Local Delivery.*
*Local delivery within 20 miles of Innovative
Ideal Protein Success Stories...
Innovative Aesthetics Medical Spa & Laser Center is an independently owned and operated and authorized to sell Ideal Protein products and services. Ideal Protein disclaims any express or implied statement of weight loss performance or other benefits that are not made by Ideal Protein. See www.idealprotein.com for more details.
"Excellent experience every time I go in. Very peaceful and pleasant atmosphere. They get you in and out in a timely manner and pay close attention to your needs and give you educated advice."
"Once I got the hang of the Ideal Protein plan, it didn't take long to see the results. 50 lbs lost in 4 months! The plan really is easy, the food is good, and now I have the tools and knowledge to keep eating healthy!"
"What an amazing experience at Innovative Aesthetics. My friend and I went in for facials on a to relax and we both almost fell asleep. The service was wonderful and answered all of our questions and also gave us some advice. Great way to spend the morning with a friend."
"If you are looking for a lifestyle change to become a healthier you this is the place! I've been a part of the program for 3 months and within a week I saw what all the hype was about. All the consultants/coaches welcome you in and are there every step of the way to encourage you on. Finally found what I was missing."
"My skin has never felt and looked better."
"Not only does Ideal Protein work, but the coaches are just amazing. Flexible, human, understanding & encouraging! ❤️ Ideal Protein changed my life."
"They have the latest technology in skin/beauty treatment. They know what to recommend to me to make me look and feel wonderful."
"Ideal Protein is such an amazing program. I lost 70lbs in less than a year on this program. The Facebook page is great to follow. It is a daily reminder that you are not alone in this journey!"