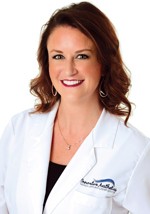 Madelyn Pilcher, APRN
Clinic Director
Madelyn is a native to Cedar Rapids. After moving away for college to St. Mary's College, Notre Dame, IN ('05, BS Biology) and Creighton University, Omaha, NE ('09, BS Nursing), she returned to the University of Iowa to complete her Doctorate in Nursing Practice in 2013.
Since graduation, Madelyn has worked in the Hospital Inpatient and Occupational Health settings. She is the Northeast Representative on the board of the Iowa Nurse Practitioner Society.
She is trained and certified to perform all laser therapies as well as PRP, Fillers, and neuromodulator injections.
Madelyn has a 4 year-old daughter, Stella. She enjoys time spent with her family and friends, doing outdoor activities, sports, and all other ways to stay active.
Madelyn was initially interested in dermatology after facing her own skin troubles during her younger years. Understanding the need for skin care providers in Cedar Rapids, led her to Innovative Aesthetics.
Madelyn will use her experience and education to improve the health of her patients both inside and out.