Sweet dark chocolate flavored filling sandwiched between crispy, chocolatey wafer layers and topped with a chocolatey drizzle. One of our most decadent offerings.
Super convenient and easy to take with you. A fluffy, high-protein filling sandwiched between light and crispy wafers.
This tasty treat is more than an indulgence—it's a high-protein power snack sporting 15 grams of protein that will keep you feeling satisfied long after your coffee break is finished! Ready-to-eat, bring this sweet treat with you when your friends want to have dessert and you want to stay on plan. We promise you won't feel deprived in any way. The airy texture is a satisfying way to get rid of hunger and gain a smile.
15g protein
Egg-free
Soy Isolate-free
Nut-free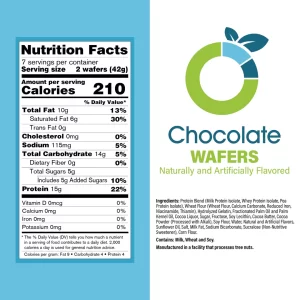 *1 wafer a day