The perfect amount of mint gives it a fresh taste a bit like a Thin Mints®, but more chocolatey with a bit of crispy texture added so you get a nice crunch.
A coach and client favorite! These hearty bars feel just like eating a candy bar. Eating healthy never tasted so good.
Our Crunch Bars easily slip into a purse, gym bag, or glove box and are perfect to have on hand for when you're hungry on the go. No rice puffs here, just chewy, decadent bars that almost make you feel like you're cheating. With 15 grams of protein and 5 grams of fiber, these are packed with vitamins and nutrients to fill you up and not bog you down.
15g protein
5g fiber
Egg-free
Soy-free
Nut-free
Certified Gluten-free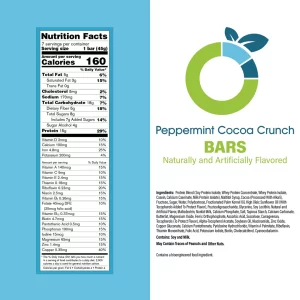 *1 Bar a day